Are you one of those Hallmark movie junkies? I have friends who go whole-hog, plopping down on the couch, propping up their feet, showing off those fuzzy socks that say "Leave Me Alone, I'm watching Hallmark movies"! Catch that plural "Hallmark movie(s)". You can never "eat" just one! Why are those darn things so addictive, and a little contagious even? You may have been wondering just that, even as you can't help rewatching your favorite storylines, romances, and characters. 
In this lighthearted episode, multi-award-winning author and global marriage educator, Ramona Zabriskie, and her daughter, Hannah, a member of Team WifeSavers, try to solve the riddle about what our penchant for predictable romances, reveal about us as women.
THROW ME A WIFESAVER: "Help! Why can't I stop watching Hallmark movies, especially at Christmas?"
KEY TOPICS IN THIS EPISODE:
Defining the essence of our womanly desires and longings
The seven reasons we keep coming back for more from Hallmark
What makes us happy as women, more than anything else
The belief we treasure about how the universe relates to us
What (or who) gives us life, especially in hard times and moments of decision
The one idea that inspires us with hope
How these stories strengthen our sense of self and desire for balance
What beauty, magic, and celebration does for us
The allure of repetitive representation of these principles
"If you are looking for a podcast that is uplifting and will help you better understand, be more respectful of, and better utilize men's and women's wonderfully unique, complimentary, and essential roles — then this podcast is for you! It's time happily and very well spent!"  ✮✭✭✭✭ Apple Podcasts listener
RELATED EPISODES:
EP 50: How To Be a Better Husband (Four secrets your husband needs to know to make you happy)
EP 18: If You Want to Transform Your Marriage, Focus on This (the one attitude and action that will have the most effect)
EP 21: Romance and Desire That Last (the secrets to keeping the fire alive)
Come celebrate Ramona's birthday and the release of the new edition of her book, Wife for Life: The Power to Succeed in Marriage, at her RAMONA'S BIRTHDAY BOOK LAUNCH BASH on January 27th at 10am PT!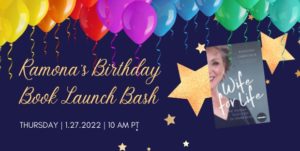 It's LIVE, it's FREE, and it's super INTERACTIVE; you'll have lots of opportunity to talk to Ramona and to ask her your relationship questions directly! Door prizes for everyone! PLUS, we'll be drawing a winner from our contest for 4-free months of WifeSavers Course and Community!